If the idea of having a swastika part of a Kanak charm against creatures from the deep seems strange to you, let me take you for a trip along the coast of Panama.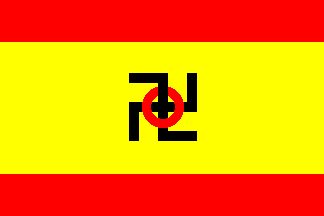 There, the Kuna indians live on a group of 365 islands off the coast of Panama. They assumed autonomy in 1925. The flag design they adopted at that time incorporates a swastika. Later a variant of the original flag was introduced where a circle representing a nose ring was added.
In Kuna tradition, kikir, which means octopus, is the name of the sacred symbol representing the birth of the world, the divine mother extending its tentacles in the four cardinal directions thus creating the rainbow, the sun, the moon and the stars.
PS: I like the idea of being able to spend each day of the year on a different island and on leap year to have a rest on the mainland.