In The Shadow over Innsmouth ( H.P. Lovecraft, written 1931, published 1936), old Zadok Allen mentions a Kanak's charm.
"Well, come abaout thutty-eight – when I was seven year' old – Obed he faound the island people all wiped aout between v'yages. Seems the other islanders had got wind o' what was goin' on, and had took matters into their own hands. S'pose they must a had, after all, them old magic signs as the sea things says was the only things they was afeard of. No tellin' what any o' them Kanakys will chance to git a holt of when the sea-bottom throws up some island with ruins older'n the deluge. Pious cusses, these was – they didn't leave nothin' standin' on either the main island or the little volcanic islet excep' what parts of the ruins was too big to knock daown. In some places they was little stones strewed abaout – like charms – with somethin' on 'em like what ye call a
swastika
naowadays. Prob'ly them was the Old Ones' signs. Folks all wiped aout no trace o' no gold-like things an' none the nearby Kanakys ud breathe a word abaout the matter. Wouldn't even admit they'd ever ben any people on that island."
…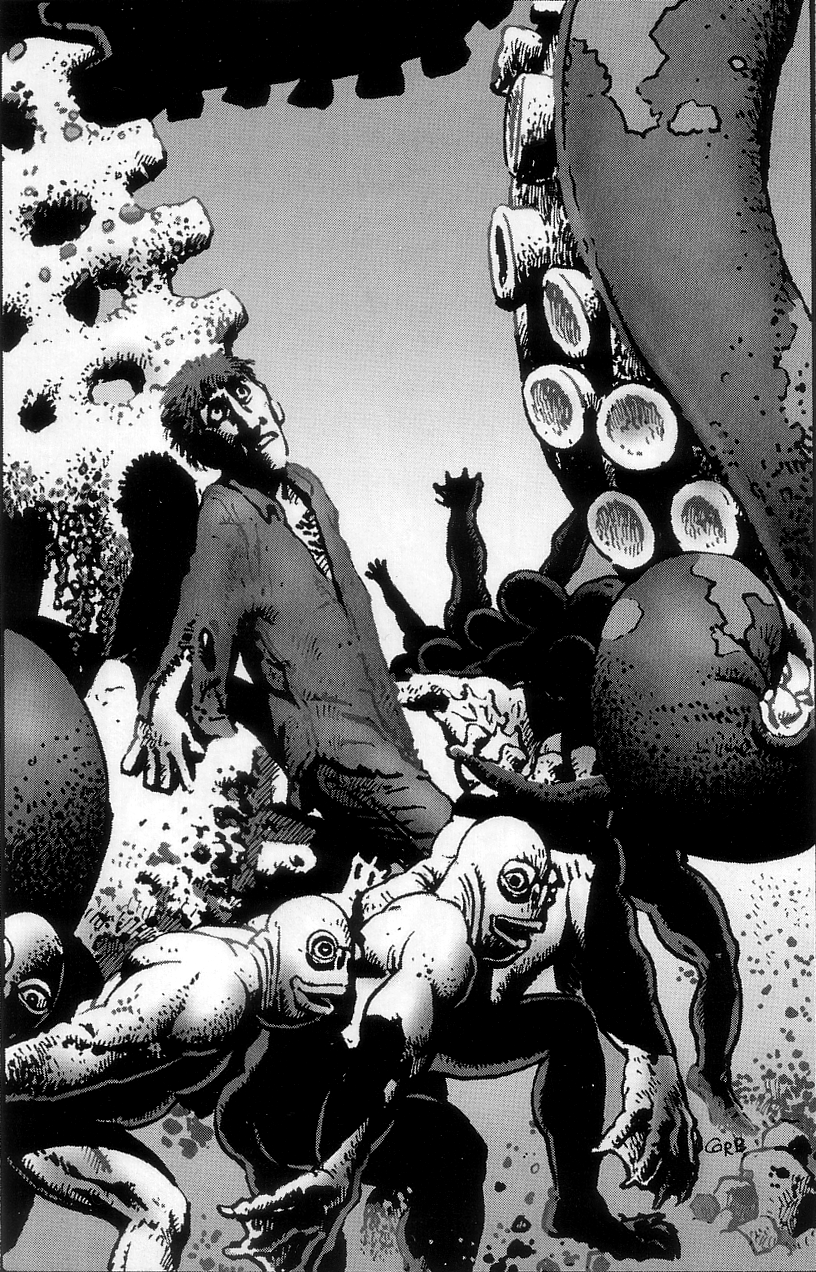 "We all hed to take the Oath o' Dagon, an' later on they was secon' an' third oaths that some o' us took. Them as ud help special, ud git special rewards – gold an' sech – No use balkin', fer they was millions of 'em daown thar. They'd ruther not start risin' an' wipin' aout human-kind, but ef they was gave away an' forced to, they cud do a lot toward jest that. We didn't hev them old charms to cut 'em off like folks in the Saouth Sea did, an' them Kanakys wudu't never give away their secrets.
"Yield up enough sacrifices an' savage knick-knacks an' harbourage in the taown when they wanted it, an' they'd let well enough alone. Wudn't bother no strangers as might bear tales aoutside – that is, withaout they got pryin'. All in the band of the faithful – Order 0′ Dagon – an' the children shud never die, but go back to the Mother Hydra an' Father Dagon what we all come from onct … Ia! Ia!
Cthulhu
fhtagn! Ph'nglui mglw'nafh Cthulhu R'lyeh wgah-nagl fhtagn – "